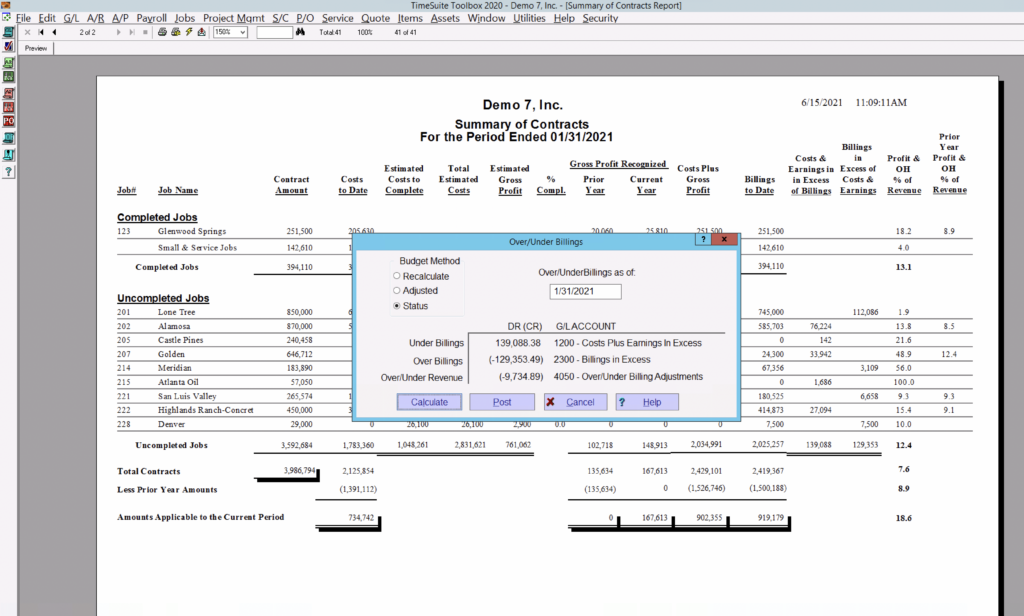 Percentage of Completion | Summary of Contracts
Automated GAAP includes automated accrued wages, automated over/under billings, a full "Summary of Contracts" that automatically tie to the Income Statement as well as the Balance Sheet, Job Status projections, Percentage of Completion projection logs (track profit gain/fade by job by period), retroactive allocation of over/under allocated indirect costs.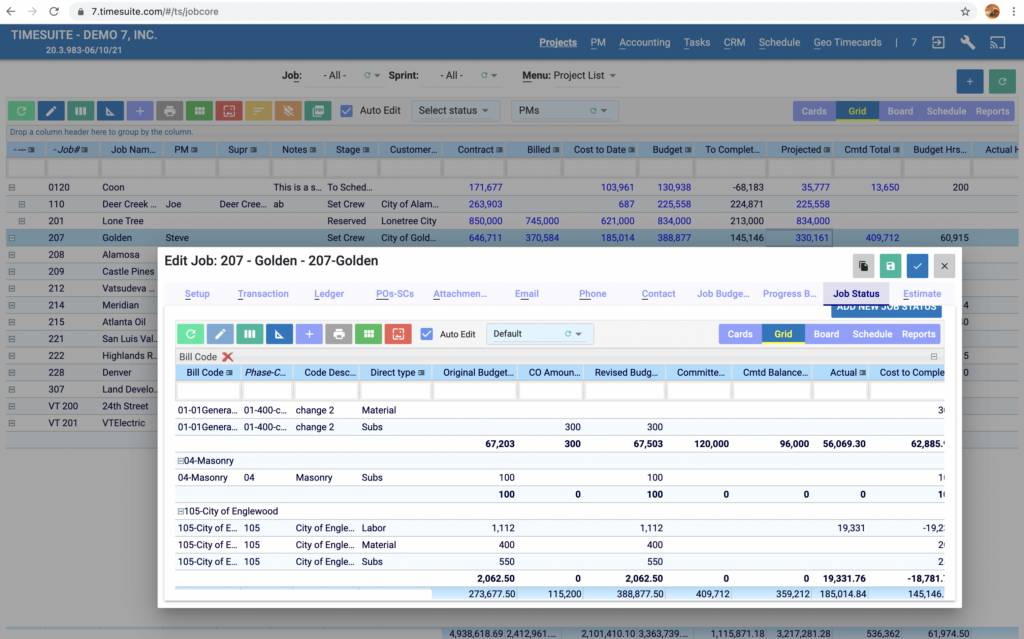 Grids are Real Time Drill Down Dashboards
Quick and easy entry. Drill down on blue numbers for substantiation.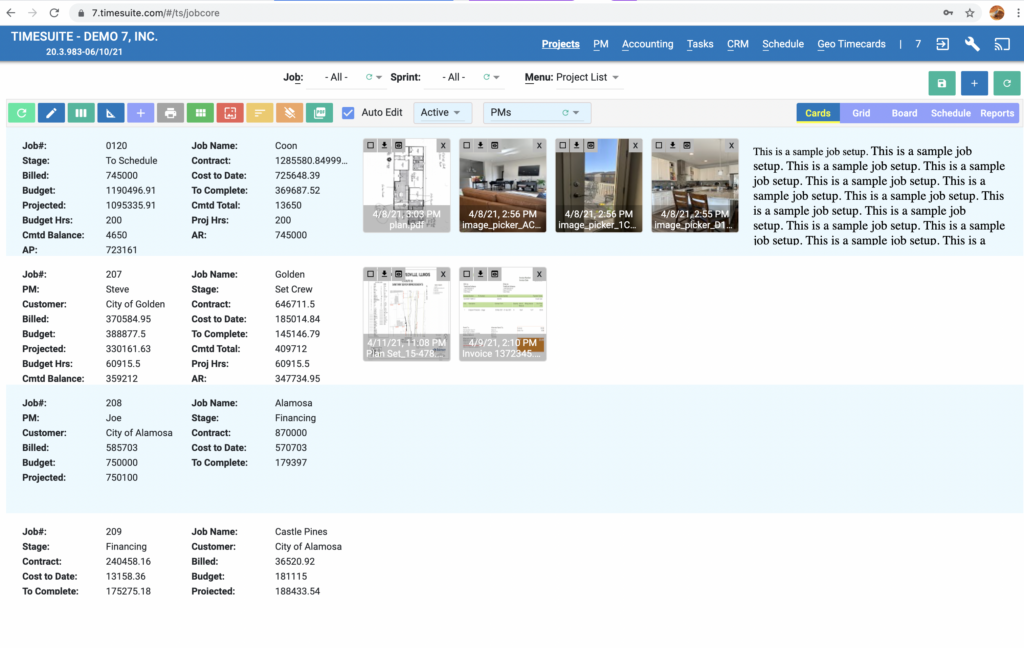 Cards with Pictures/Videos
Every grid has card views that allow quick view of data, pictures and videos.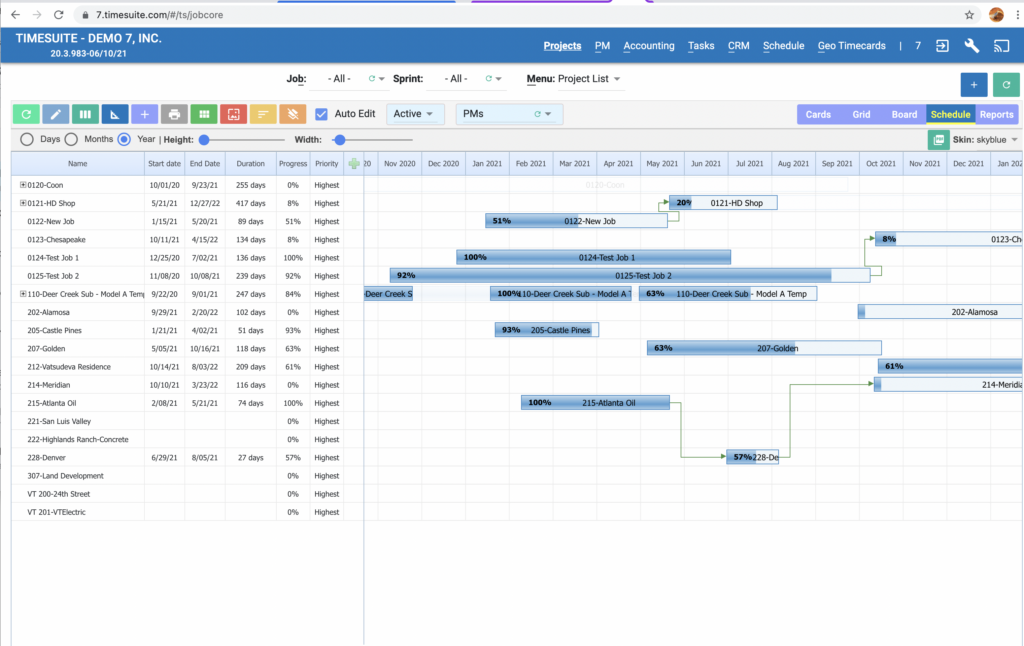 Scheduling
Every grid has scheduling tools that can be turned on.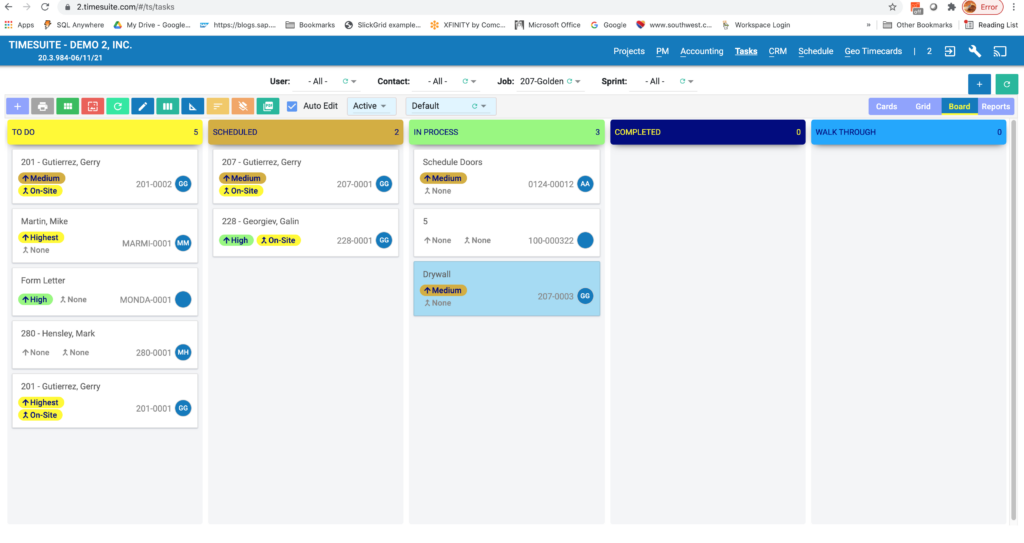 Task Management
Every grid has task management tools that can be turned on.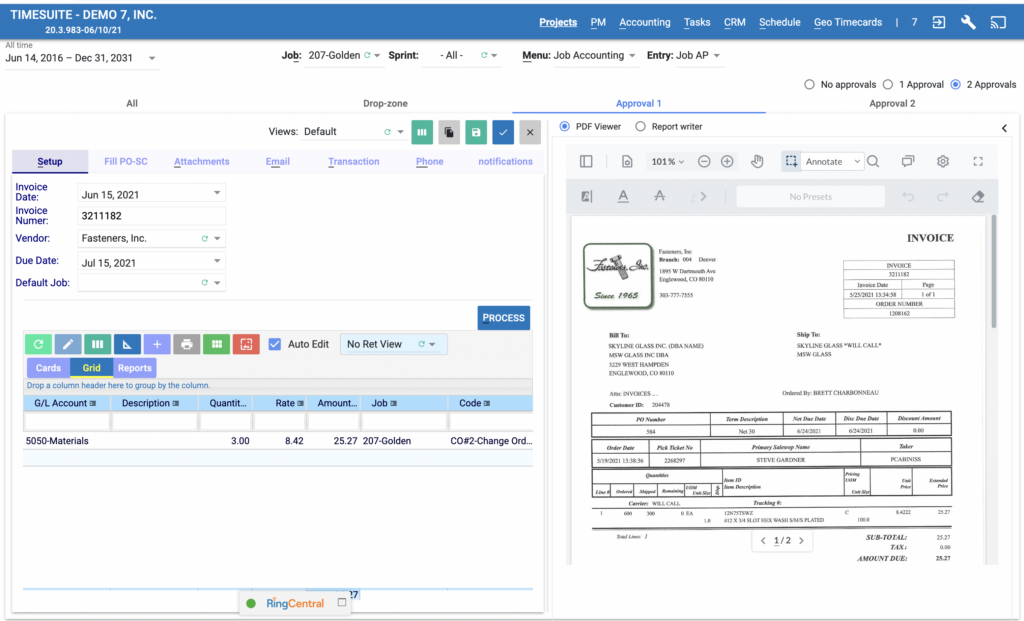 Approvals
Approvals can be turned on for POs, Subcontracts, AP Invoices and Timecards
Communication
Centralized Email, Text Messaging, Notifications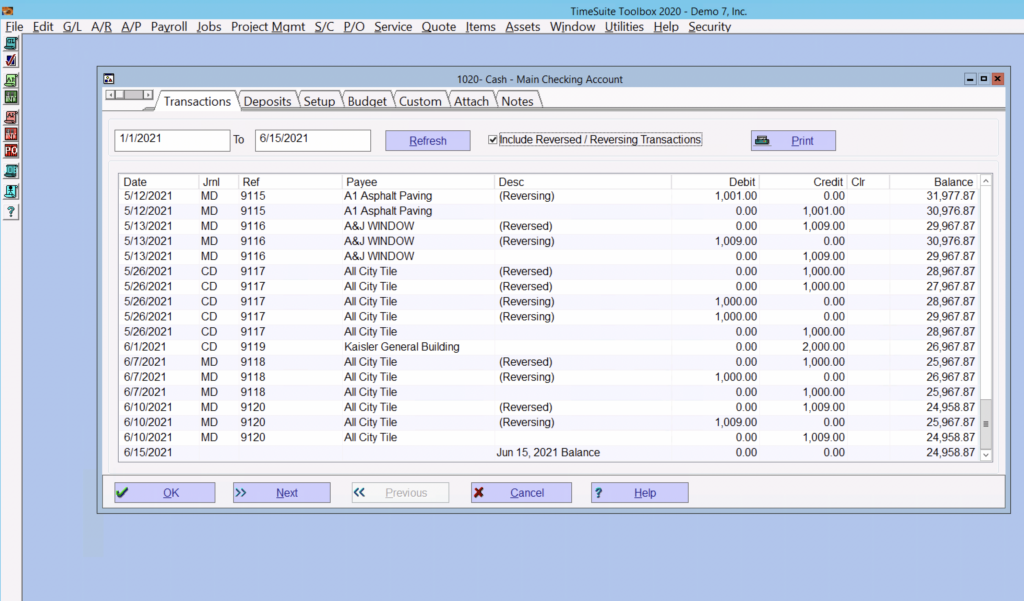 Automated Audit Trail
Transactions can be easily fixed, and we do the automated audit trail for you. User name, date and time stamps facilitate reporting on all changes.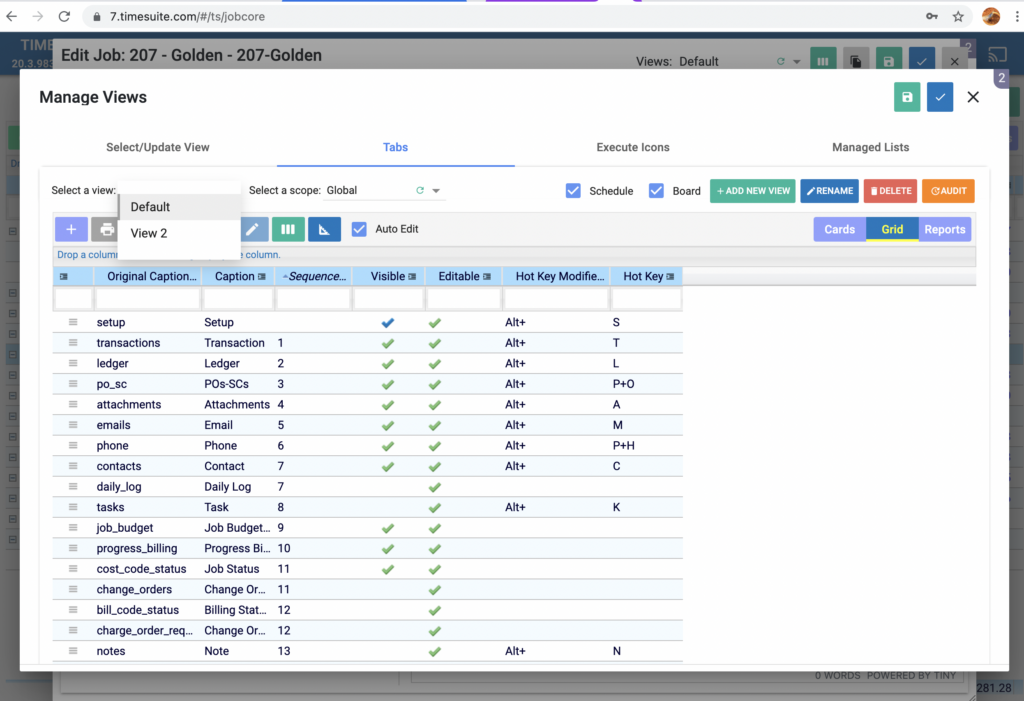 Dynamic Tabs
Tabs are specified at the grid and/or dialog view level.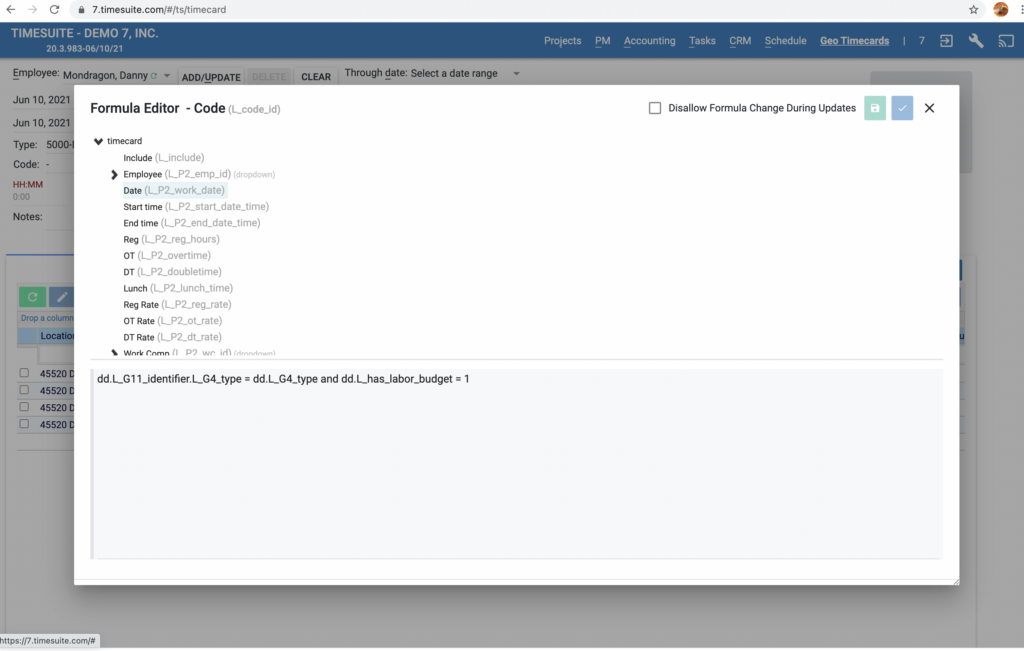 Dynamic Filters
Dynamic filters can be specified at the grid level for each view.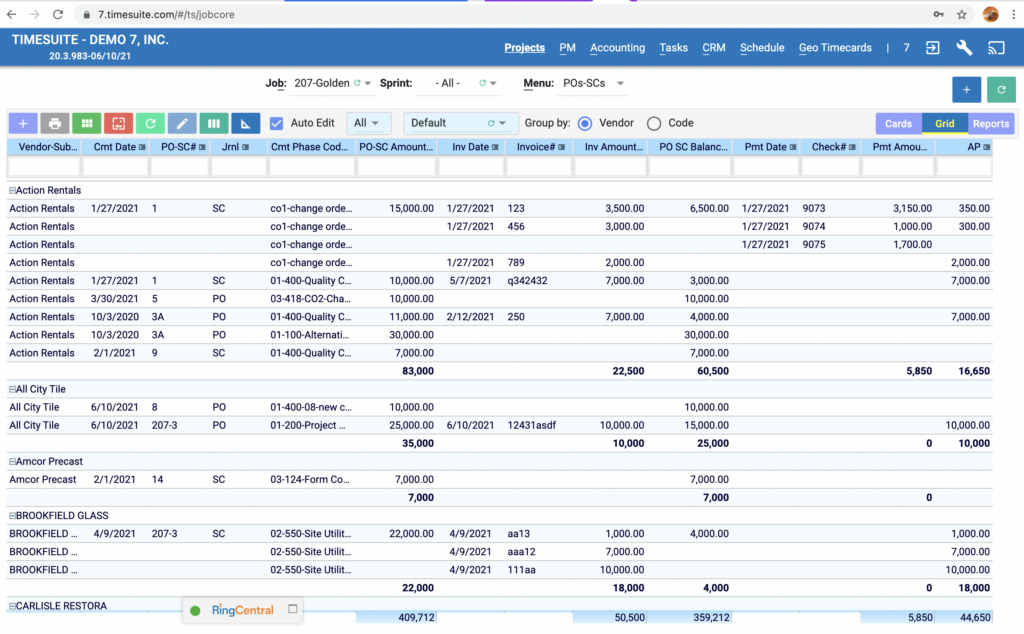 Automated Cost Control
Committed Costs (POs and Subcontracts), Status Projection and Budget Actual Variances can be quickly viewed by amounts, hours or quantities.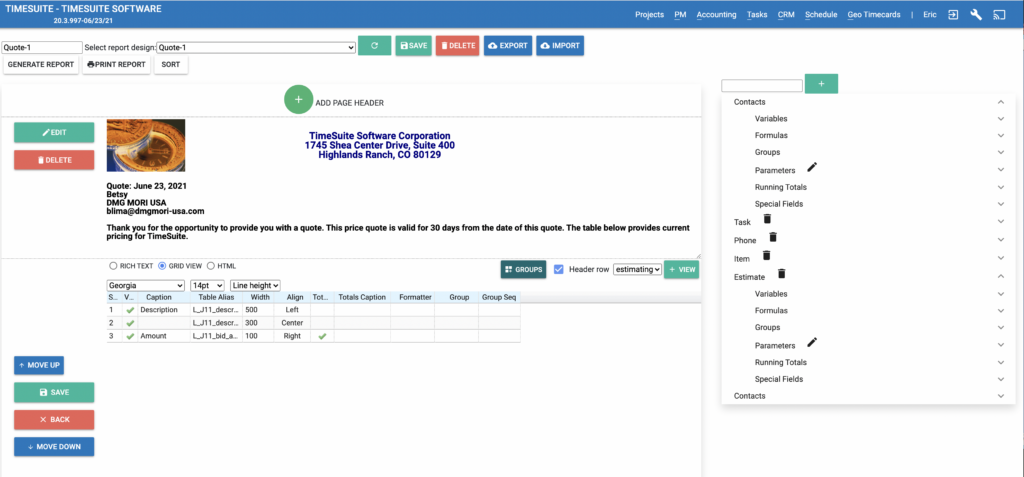 Two Report Writers
TimeSuite Web Report Writer is accessible from every grid and every dialog. Toolbox utilizes Crystal Reports.
Dynamic Features (turn on turn off):
Dynamic customizable views, dynamic modifiable setup (Dynamic setup that can be changed after you implement.)
Intuitive, fast, efficient and modern software
Tools for every grid (Including Notifications, Task Management, Gantt Scheduling, Card Views, Grid Views, Dialog Views, Dynamic Tabs, Dynamic Filters, List Management, Report Editing/Creation, Form Letter Editing/Creation, Centralized Email, Content Delivery, Change History Log, Checklists and more).
Time & Billing / Time & Material Billing, Progress (AIA) Billings, Unitary (AIA) Billing, Item Billing, Work Order Billing
CRM/Contact Management (including Opportunities, Estimates, Quotes, Contacts, Calendar, Meeting Invites, Form Letters, Estimates/Quotes, On-Screen Takeoff, Specifications/Plans, Annotations, Scheduling, Notifications, Messaging, Centralized email, Softphone Integration and more)
Estimating, On-Screen Takeoff (including Assemblies/Kits, Dynamic Cost Types, Views, PO/Subcontract Creation, Inventory Transactions, Billing Creation, Change Orders and more)
Project Management and Doc Control (including Daily Logs, RFIs, Submittals, Plans, Drawings, Specifications, Punch Lists, Observations, Resource Scheduling, Gantt Scheduling, Photos, Vidos, Annotations, Centralized Email and more)
Work Orders (including Estimating WOs, and Scheduling/Service Dispatch, Lump Sum and T&M Billing, Credit Card Collection, Scheduling, Cards and Task Management)
Job Cost, General Ledger, Accounts Receivable, Accounts Payable, Inventory, Payroll, Purchase Orders, Receiving Slips, Subcontractor Control, Bank/Credit Card Reconciliations. Electronic ACH Receipts and Payments, Credit Cards Landing Page,
Automated Audit Trial: GL, AR, AP, Inventory, Job Cost and Payroll Transactions (We do the correcting and reversing entries for you, and log the user and date / timestamp.)

History of modifications to records.

Centralized / Normalized Relational Transactions Data Structure. (Transactions are not stored in many locations/modules)
Role, Profile and User Level Security.
Scheduling Tools: Gantt Scheduling, Subs and Employee Scheduling, and Other Resource Scheduling
Content Delivery (unlimited documents, images, videos etc.)
Production Projections and Reporting,
Payroll (Including Certified, Multi-State, Union, Direct Deposit, Electronic Filing, Printed Forms, Geo Timecards, Kiosk, and Bread Crumb visuals)
Multi-Entity Consolidations, Departments, Divisions
DCAA Compliant
Automated Percentage of Completion Over/Under Billings, Full Summary of Contracts, and History of Profit Gain and Fade for Each Job. Retroactive allocation of Over/Under Allocated Indirect Costs.
Automated Accrued Wages (job costs reported by labor date for reports that tie into your financials).
Job Status Projections (including history and charting of periodic projected margins/gross profit.
Drill Down Dashboards,
Web Report Writer,
Crystal Reports Report Writer,
Work Order Management (including Estimates, Lump Sum and T&M Billing, Scheduling, and Task Management and more)
Equipment Control, Plant Control, Depreciation Schedules and Accruals, Equipment Maintenance Scheduling, Equipment Utilization, and Allocated vs. Actual Cost Rate Reporting
Approvals (AP, POs, Subcontracts and Timecard),
Change Order Control (including CORs and Master COs)
Lien Releases
And more.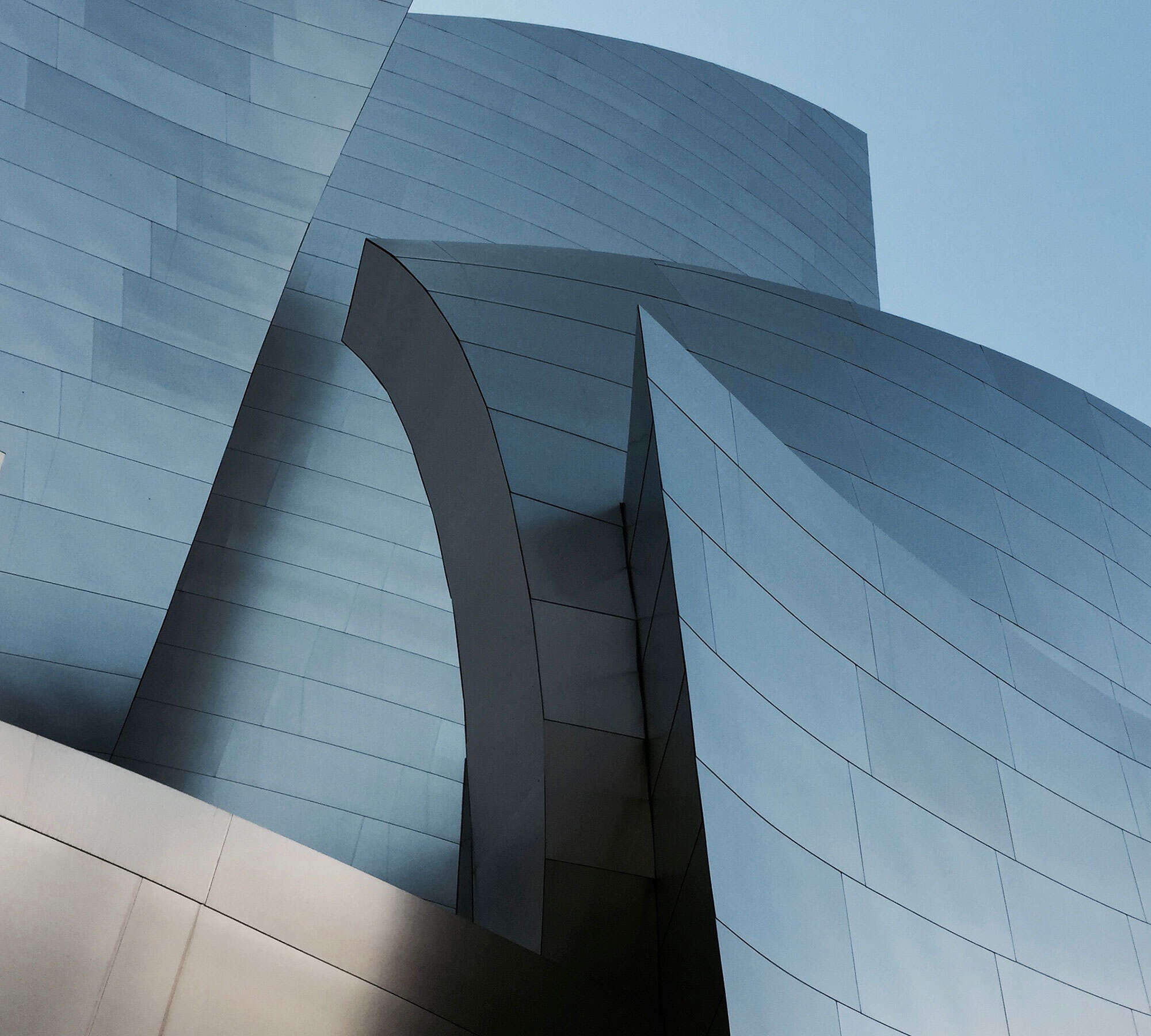 Learn more about TimeSuite ERP